BY MICHAELA HIGGINS SØRENSEN AND MARIA EDUARDA LIMA
The United Nations High Commission for Refugees (UNHCR) defines a refugee as "any person forced to flee from their country by violence or persecution". It is widely known that since 2011, the world has seen the highest levels of displacement ever registered. The UNHCR estimates that nearly 65 million people have been displaced due to conflict and persecution during 2016, and that 20 people are forced to flee their homes every minute. According to the Danish Immigration and Integration Ministry, during 2015 and 2016, considered the peak of the so-called refugee crisis, 36,108 people sought asylum in Denmark.
In the face of such figures, it is easy to become numb to human struggle. People are turned into menacing 'waves' or unwanted 'flows'. As an organization founded with the aim of guaranteeing respect for human rights, the United Nations' role in this scenario is to make sure refugees are safely resettled and can restart their lives with dignity.
UNYA believes that a fundamental part of this process is to address it locally. The purpose of this event was thus to contribute to narrowing the distance between local populations and people with a refugee background. A gap which is evidenced by commonly expressed misconceptions and stereotypes attached to the label 'refugee', and might generate obstacles to integration or become fuel to anti-immigration policies.
In collaboration with the Danish Refugee Youth Council (DFUNK), UNYA gathered 3 speakers willing to share their journeys and experiences as refugees in Denmark.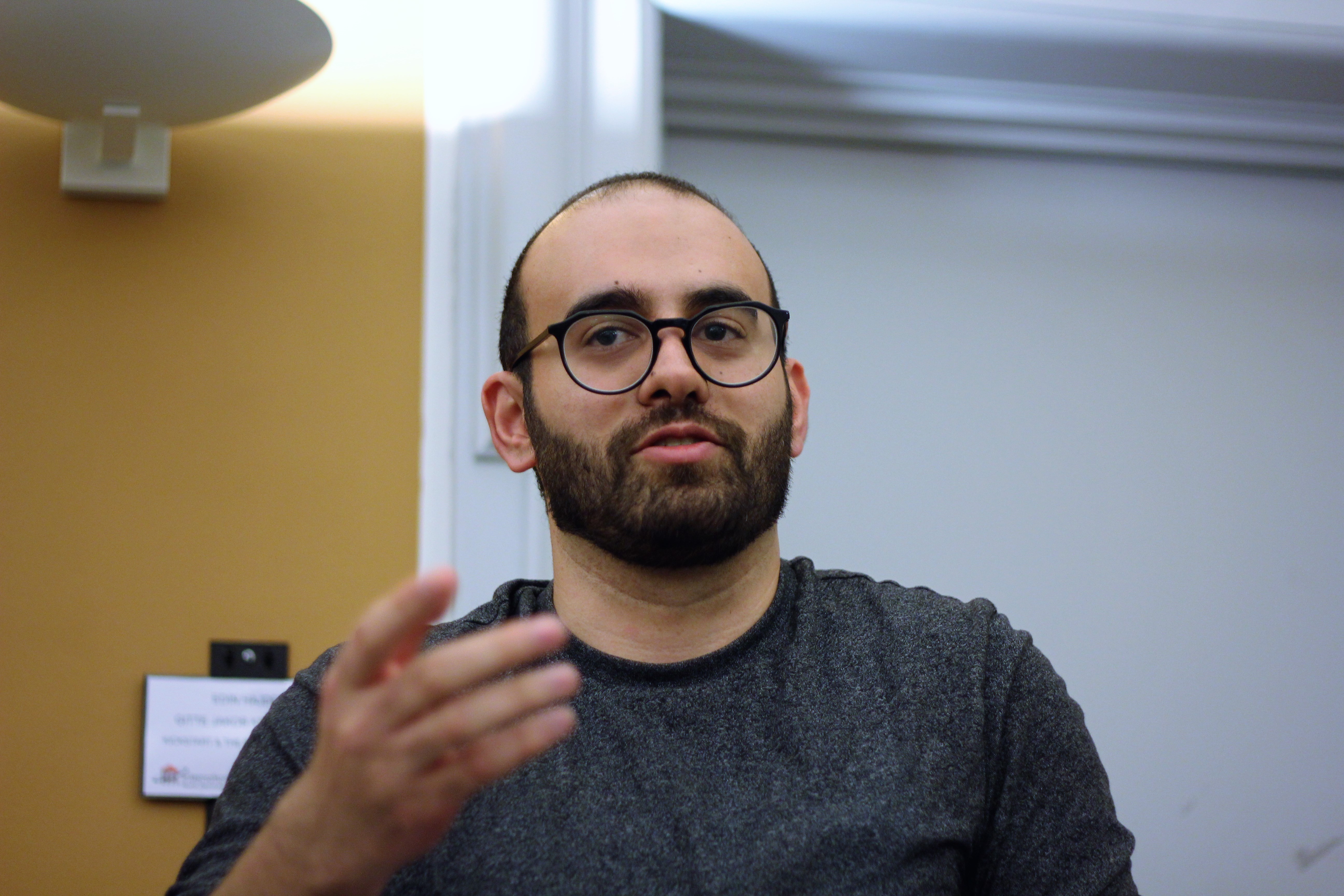 Alex Berg, the first speaker of the evening, shared with the audience his three-week journey from Syria to Denmark in 2015, his thoughts on his country, his journey, and his new life in Denmark. Alex's journey from Syria, like many other refugees seeking asylum, was not a smooth one. Treading through ISIS territory, travelling through dangerous transportation means and living in uncertainty by putting his life in the hands of smugglers, Alex successfully made it into Denmark, leaving his family, education, and possessions behind.
"If you are a male between the ages of 18 and 42 in Syria", said Alex, explaining why he made this life-altering decision to leave Syria, "you are subject to be called for the army to serve the military where there is a 90% chance that you will be killed fighting on the battlefield". Alex was studying at university in Damascus and was applying for a master's program at the time, however, his reservation was cancelled because of the war. By default, he would have to join the military service, which in those circumstances would most probably mean a death sentence.
In Denmark, Alex has integrated into society enthusiastically. He voluntarily accepted a Danish host family who he meets with every second week and during holidays, has completed Danish language school and is doing a bachelor's of humanities at Aalborg University. Alex has adjusted to life in Denmark over the past two years, although not without challenges.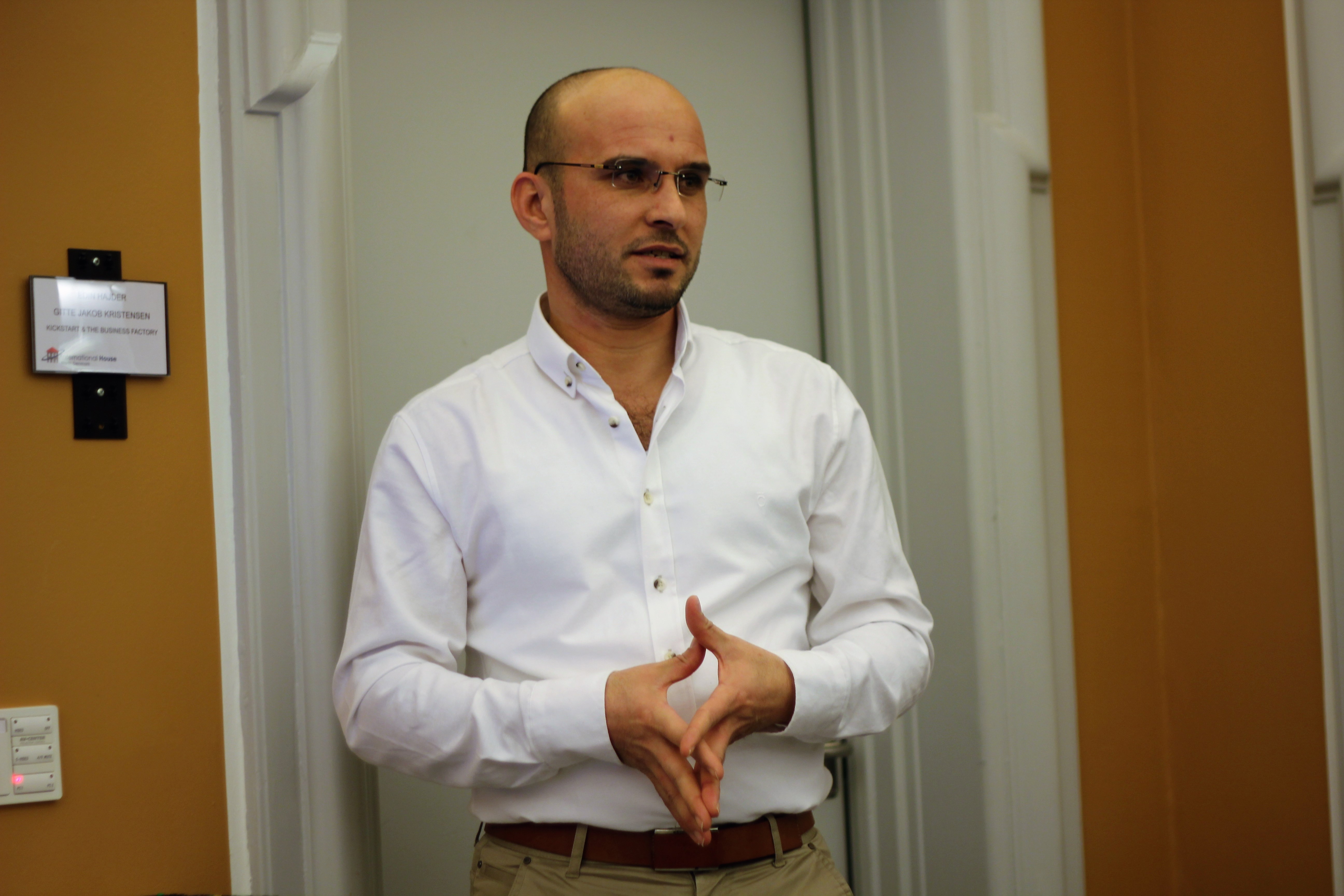 The second speaker, Taisir, is also a Syrian citizen. His home city Raqqa was one of the most affected by the war. Like Alex, he enjoyed a good life in his country before the war broke out. He has a bachelor's degree in English literature and had been an English teacher for six years. Leaving home was not an easy decision for him, but a necessary one. "I came to Denmark in order to open a new page in my life after the war had destroyed everything I knew. I left behind my family, my friends and my childhood memories".
Taisir opened his speech with the question, "Do you guys know falafel and hummus?" to which the audience responded with 'oo's' and 'ahh's'. "Well, they are from Syria!", he informed the room with a hint of pride in his tone. It is important to him that people associate Syria not only with violence and tragedy, but with its positive contributions to human history and to our everyday lives. "Most of you know Syria today as death, destruction, and war. However, I want you to know that Syria was a credit to all civilizations. For example, the first wheat planted was in Syria during 700BC".
During his journey, one of the experiences that shocked him the most was an encounter with a judge in Macedonia, who asked for €100 to let him and his friends continue on their way up north. It took him 4 months to arrive in Denmark, where, for the first time, he joked, he was the one to look for the police, instead of the other way around.
Despite the strenuous journey, it was extremely important for him to get here. His choice of destination involved the contacts he had in Denmark; friends who resettled in the country before him. They had told him that the Danish asylum system included an integration program and it was generally faster than other countries. As he needed to rebuild his life from scratch, he was determined to go wherever he would have the best chances.
Taisir has been in Denmark for about three and half years now. Currently, he is in the first year of his master's studies in Culture, Communication and Globalization, at Aalborg University. He has volunteered as an Arabic-English translator in his asylum centre. He speaks Danish well and is an active part of DFUNK, mainly as a storyteller.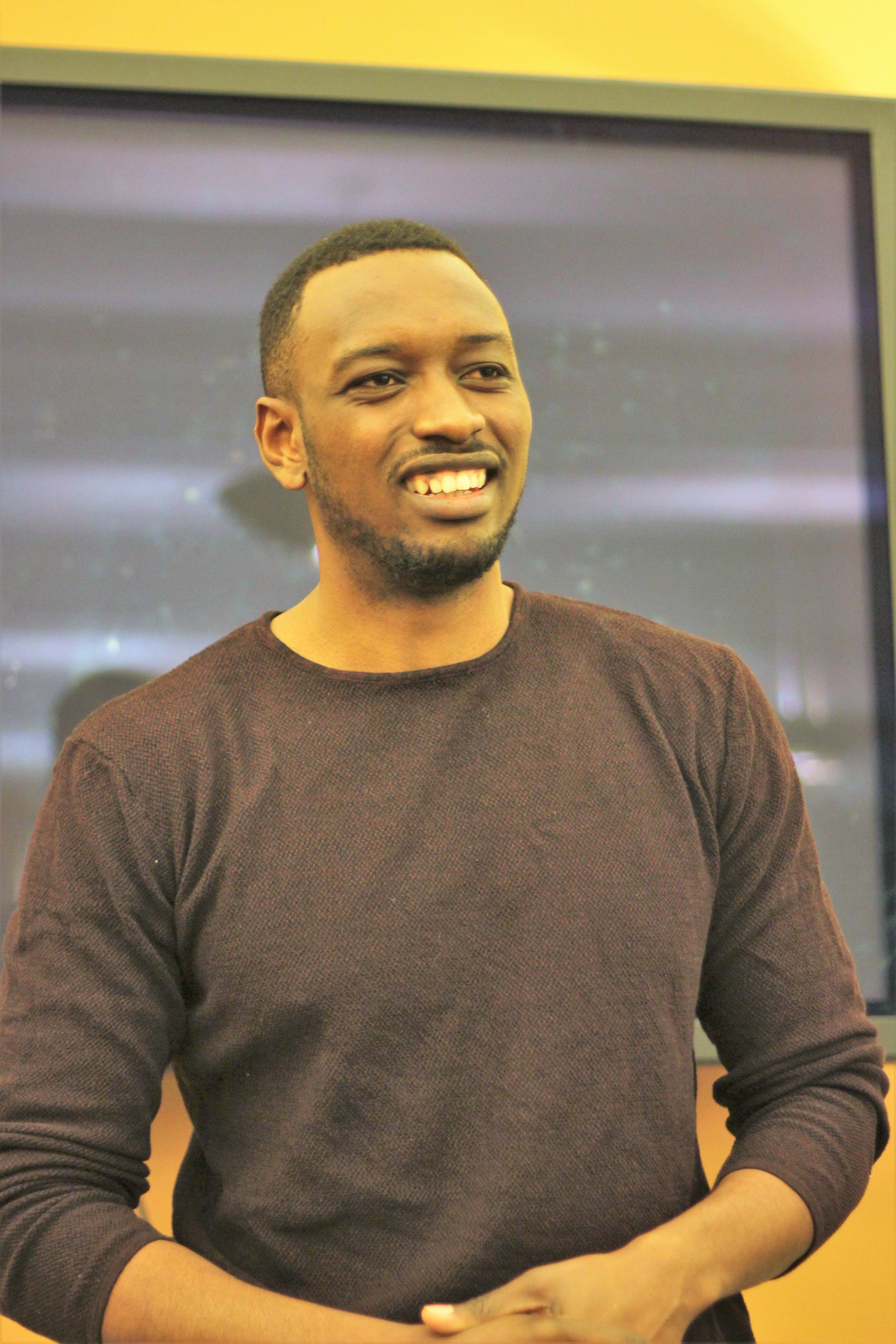 The final speaker, Patrick, was born in Rwanda, but in 1994, when the genocide occurred, his family chose to flee and seek refuge elsewhere. Patrick explained, "My father was told to kill my mother because she was a Tutsi and he was Hutu, but my father didn't do that because he loved my mother very much, and he loved me, too". Patrick and his family sought refuge in several camps across southern Africa, including Tanzania, Kenya, and Zambia, but returned back to Rwanda when they received news that the civil strife was over. Upon their return, his father was called into questioning by the police, and never came back. "My mother had a son who was Hutu, and she herself was Tutsi, and that was a crime", Patrick stated. Patrick's mother did not want to give him up, so she chose to leave Rwanda and start a new life for them elsewhere, and ended up at a UN refugee camp where they eventually found their place in Denmark.
"When my mother told me we were moving to Denmark, I said what is Denmark?" Patrick recalled with a wide grin on his face, about to deliver an amusing anecdote from his childhood. "Remember that Jackie Chan movie?" his mother replied, "It's kind of like that". So, as a young boy moving from southern Africa to Denmark, Patrick pictured Denmark as an exciting Jackie Chan movie. Patrick's integration in Denmark was not so difficult. He was young, highly adaptable and liked to play football with the other kids, so he learned fast. Patrick feels at home in Denmark as he stated, "If someone asked me where I am from today, I would say Denmark because it is the one place I have lived the longest in".
There were a few challenges Patrick experienced due to his turbulent childhood, as he said, "I was behind in everything, I had to fight if I wanted any chance to make it". And fight he did as he went on to a gymnasium, then a bachelor's in philosophy at Aalborg University, and is currently doing a master's in sociology, besides coordinating DFUNK's Outreach group, with the mission of spreading awareness about refugee-related facts.
Listening to the stories of Alex, Taisir and Patrick was a highly educational experience for the audience and the UNYA team. The 3 speakers shared with us their journeys that were sad and emotional at times, however, all 3 of them included some humour in their presentations and shared many positive aspects of their life in Denmark. The most important lesson to take away from this event was to realize that there is a person behind the term 'refugee'; a person with hopes, dreams, goals and inspiring stories to tell.