One of the many purposes of the United Nations (UN) is to maintain world peace and security. Only a few people know that the UN temporarily governed a country, East Timor. That is why on April 1st, UNYA Aalborg welcomed Finn Reske-Nielsen to help us understand the role of the UN during the state building in East Timor.
All together, Finn Reske-Nielsen spent almost ten years in East Timor and had a meaningful role in the state-building and peace-keeping process. Finn was the UN resident coordinator and UNDP (United Nations Development Program) resident representative in East Timor as well as the Special Representative of the Secretary-General for East Timor.
He first started working in East Timor in September 1999, but after working there for three years, Finn and his wife left in 2002. As things did not exactly go as planned, he made a promise to his wife to never go back there. This promise did not hold as in 2006, while eating in downtown Vientiane (Laos), Finn got a phone call from his director based in New-York – he had to go back to East Timor. From Finn's lecture, it is evident that those ten years were filled with perplexing decision-making, but were ten certainly interesting years nevertheless. 
The talk started with a quick reminder of where East Timor is located and then went on to a historical context and overview of the situation in East Timor in 1999 and before. Located between Indonesia and Australia, East Timor is a country approximately the size of Japan with a difficult and unfortunate past.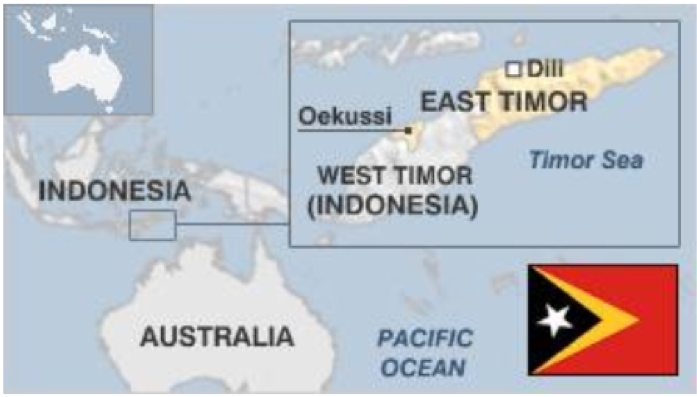 From the 16th century, East Timor was colonized by Portugal. According to Finn, it was a "usual colonial approach – it was all about extracting whatever riches was there". Finn also pointed out the intermarriages between the Timorese and the Portuguese, which later on generated additional political problems. After the revolution in Portugal in 1974, the first thing the new government in place did was to offer its colonies independence. East Timor then became independent from Portugal, however a short time after, a fierce civil war initiated, opposing the Marxist/ Leninist movement and its more conservative elements. The civil war was highly brutal and cost many people's lives. Finn reveals that every family in East Timor had someone killed during the civil war.  
One year later, in 1975, the Indonesian military invaded East Timor fearing the possibility of a revolutionary government. Finn states that the invasion was followed by "twenty-four years of truly brutal oppression", as one-third of the population was killed. The UN organized a referendum in August 1999, which ended Indonesia's twenty-four-year occupation.
Finn Reske-Nielsen was sent to East Timor in September 1999. What was supposed to be a two weeks calling, turned out to be roughly a 10 years of involvement in East Timor (from 1999 to 2002 and then from 2006 to 2013). Finn showed us a few pictures of what East Timor looked like in 1999: the streets were deserted, hundreds of thousands of Timorese had left the country and a considerable amount of houses and infrastructures, including governmental infrastructures, had been burned down.
"
That was what East Timor looked like when I arrived there, in September 1999, […] there were no people – they had all run away." 
–
Finn Reske-Nielsen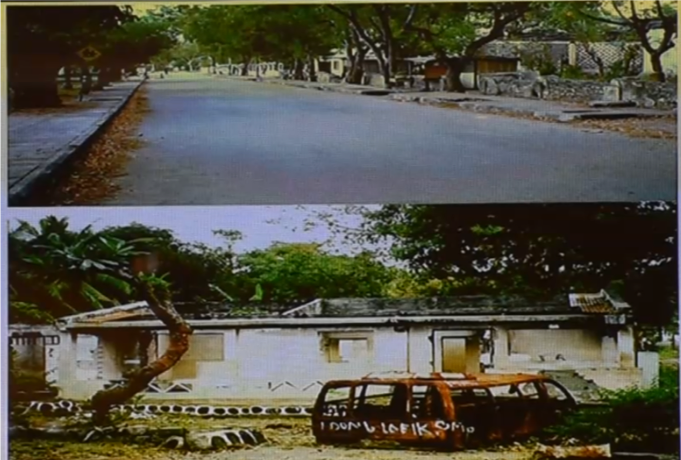 "Under those circumstances, what the UN Security Council did – with the concurrents of Indonesia, as the former occupant power, Portugal (as the original colonial power) – it fielded what became a quite unique thing in the history of UN peacekeeping, because it fielded a mission of UN military and UN police for a traditional peacekeeping mission: make sure to reestablish peace and security in the first instance. There was still fighting in parts of the country and that needed to be stopped."  – Finn Reske-Nielsen
9 to 10 thousand soldiers and a couple of thousands of police were sent to East Timor to guarantee peace and to stop the killings. On top of that, the UN Security Council temporarily gave the head of the UN mission executive, judiciary and legislative power. 
Finn mentioned that although "the UN had never governed anything", it had a "mandate to run the country and to prepare the ground for democratic elections to be held somewhere in the future." Nonetheless, it took years and years to build institutions considering the lack of infrastructures and human resources. Finn stated that when he arrived there was no prosecutors and no lawyers. As a result, the head of the UN mission asked Finn to create a crash course for judges, prosecutors and vet lawyers. The two-week crash course, with an exam at the end, was established in the Australian city, Darwin, for young Timorese "who had some sort of legal training which they had had in Indonesia during the occupation". The ones who passed the exam formed a judiciary institution that unfortunately collapsed not long after. As reported by Finn, the lack of certain qualification was to blame.
After this event and after consultation with Timorese leadership, Finn and his colleagues recruited judges, prosecutors, vet lawyers and administrators who had the potential to establish a judiciary system. The success was above expectations, "they came in and they were fantastic, absolutely fantastic, they were beautiful, and everybody hated them because they were the founders". People from Portugal, Mozambique and a lot from Brazil were recruited. According to Finn, Brazilians were by far the most outstanding because they had a concept of what it meant to work in a country where certain resources were lacking.
"None of them could calculate the percentage of a number. […] None of them would accept there was such a thing as negative numbers." – Finn Reske-Nielsen 
Finn also mentioned a certainly surprising element in the Ministry of Economy. With help from international advisors, mainly from the World Bank and the Minister of Economy in person, they held interviews with the staff to assess their qualifications in mathematics. According to the results, they concluded that the level of math knowledge in the Ministry of Finance was primary school grade 4. "None of them could calculate the percentage of a number. None of them would accept there was such a thing as negative numbers." Finn points out the sad reality that the Timorese weren't to blame. Timor had been, during the Indonesian occupation, by far the poorest of the 27th Indonesian provinces. Those who had an insufficient level in mathematics were sent to Indonesia to gain proper qualifications to join the Minister of Finance.
After those institutions were built, it was time to bring Timorese leaders back into the "equation". This, according to Finn, raised another problem,"How do you determine who is the future minister of this, the future secretary of that. That is hard, it's very hard. We didn't know them and many of them claimed to have wonderful qualifications."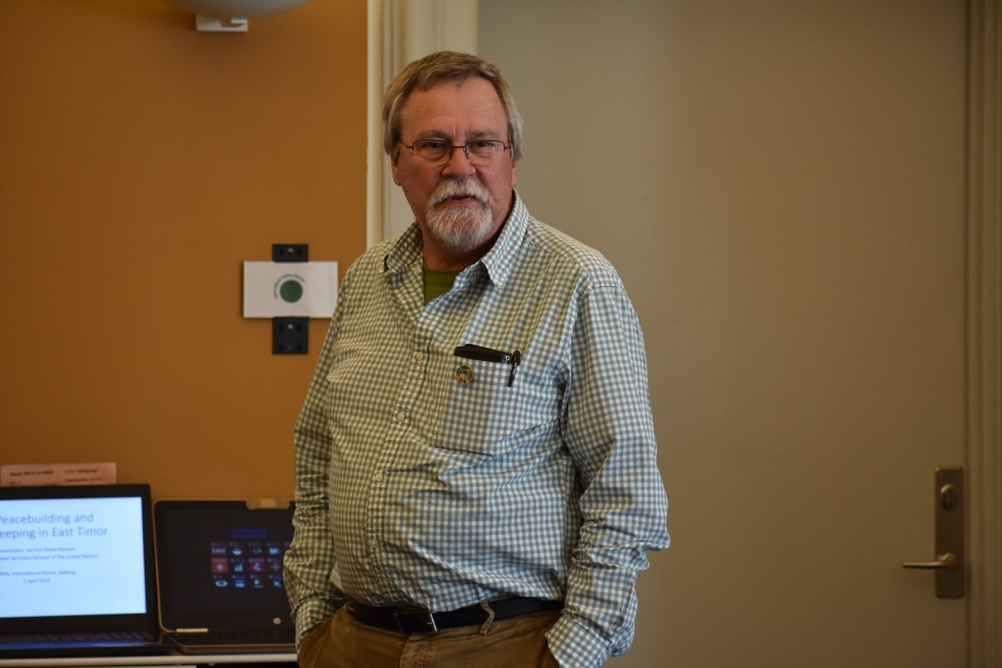 What they ended up doing was, to set up political institutions by simply appointing people. As the catholic church was very strong in East Timor, they asked the two bishops to be part of an institution. Few other persons from different political parties and NGO's were asked to take part in the decision making and to advise for adjustment in the different institutions. It took a considerable amount of time, but they slowly moved towards democratic elections.
Elections were held in August 2001, they formed a new basis, a new Timorese government, although still under the UN's "dictatorship". After two and a half years, they started to make decisions within the political sphere. Things kept slowly moving forward and in May 2002, East Timor became an independent nation. They had a parliament and the UN facilitated the making of a constitution, although the constitution is, according to Finn, an almost exact copy of the Portuguese constitution because East Timor was advised by Portuguese constitution experts who only did what they were familiar with: the Portuguese constitution. This was another problem, that the Timorese leaders weren't the ones writing their own constitution. It took seven years for them to understand what a constitution is and its role. Another issue was that the judiciary system wasn't independent from the President's bureau – the President could call a judge and ask him to release a prisoner.
"
It took forever to get the Timorese involved. It took forever to get elections organized. etc. etc." – Finn Reske-Nielsen.
During his talk, Finn pointed out numerous times the importance of having institutions with a certain level of strength to see development. Without those institutions, nothing can or will happen and without qualifications, things will collapse. The importance of adequate qualifications was also mentioned. So, building strong and qualified institutions was a very hard task since there were few human resources and every governmental building had been burned down. Everything had to be made from scratch and it takes time to build institutions with a qualified staff. Eventually, the UN had prepared the ground for democratic elections to be held in August 2001.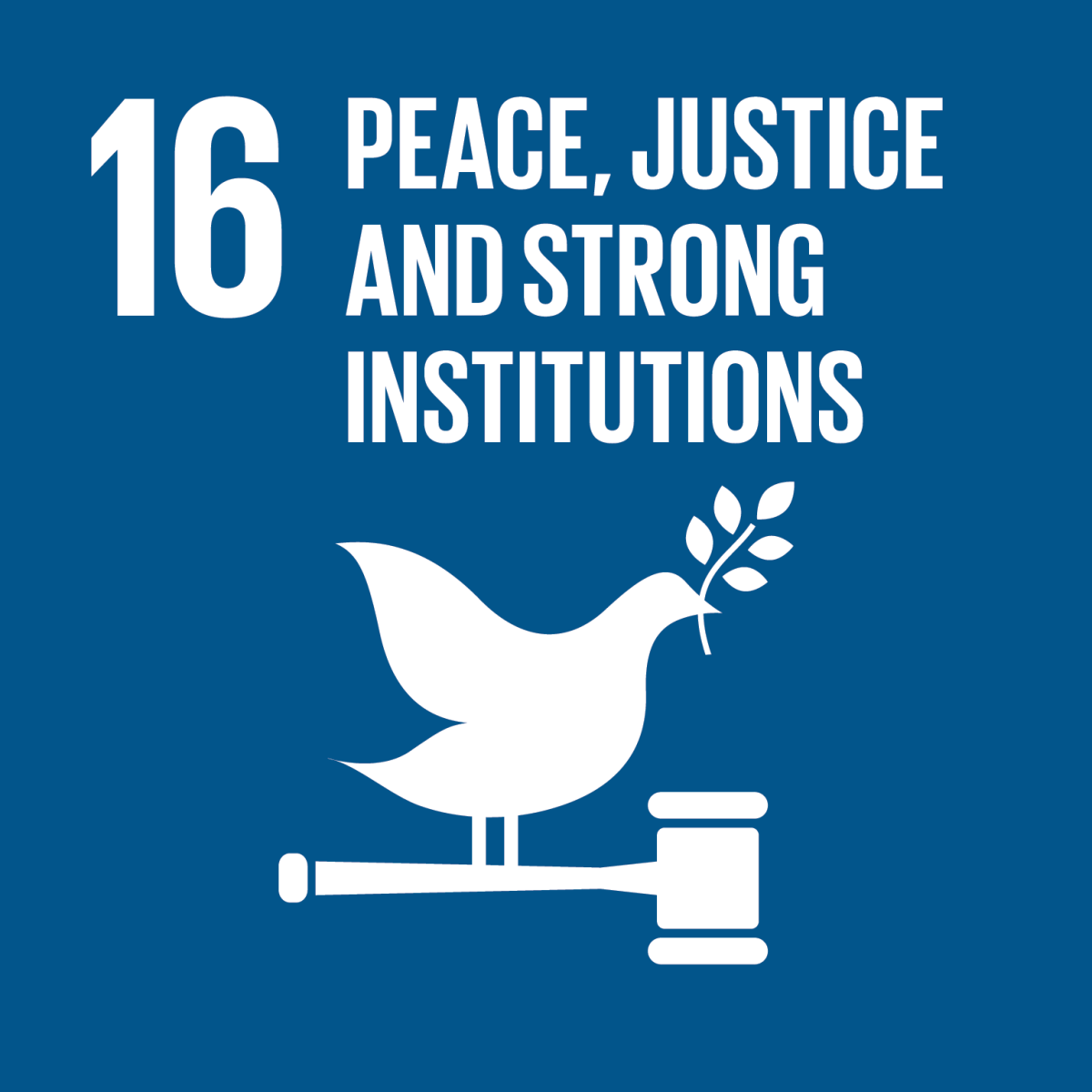 Authors Note: "Thank you to the people from UNYA's Journalism Team for the feedback on the article, as well as Finn Reske-Nielsen for giving some of his free time to educate us on this matter". – Mathilde T-Jacobsen 
Article By: Mathilde T-Jacobsen
Article Edited By: Michaela Higgins Sørensen
Caption Picture By: Alex Berg