The date is April 22nd and it is a pleasant sunny day where people from four enthusiastic organizations; UNYA (United Nations Youth Association, Aalborg), INGA (International Network for Green Agents), European Union North Denmark and the Vegan Association made Earth Day noticeable to the citizens of Aalborg, although it was a holiday on account of Easter Monday.
Members of UNYA and INGA creating posters for Earth Day (Photos by: Pierre Vogler Finck)
It all started with a fruitful planning session discussing the logistics, route, budget and fun activities to engage people with, enabling the members from each organization to make their presence felt. It was also decided to have 'the march for the bees and other species' as the name of the march. Due to the Earth Day Network, the organization that leads Earth Day observances worldwide has decided 2019 will be the year to "protect our species".
Participants of the Earth Day march showing off their lovely posters (Photos by: Pierre Vogler Finck)
And so, the big day arrived…
We all geared up with posters, face paint and slogans standing out a mile to the public to spread awareness and enthusiasm. People who saw the social media event joined us at the march, too. Also, several supporters echoed us during the march. Some said "There is no planet B" and "Dinosaurs are already dead, what's next?", while others read "Bee Green!".
The participants of the march with their posters, consisting of members from UNYA, INGA, the Vegan Association and the European Union North Denmark (Photos by: Pierre Vogler Finck).
The stage was all set with a green background, hence called the 'Green Village.' Earth day is all about bringing greater awareness to environmental concerns. The honorable speaker for the event, Lasse Frimand Jensen, who is a project leader at the International House North Denmark, as well as a member of the city council, spread an optimistic message. He reminded us of a highly relevant quotation:
"Earth provides enough to provide every man's need, but not every man's greed" – Gandhi.
He added a mind-boggling fact that according to a report by WWF (World Wide Fund for Nature), in the last 40 years we lost around 60% of the animal population as a result of the loss of habitats and endangered species. On this note, he said he is happy to see green organizations in the city collaboratively working to improve the Earth's climatic conditions through 17 Sustainable Development Goals (the SDGs). He also stated that he is lucky to be part of the council working towards sustainability, doing things such as eating a more plant-based diet, using renewable energy sources like wind, heat, thermal energy, and being free of fossil fuels by 2030. He emphasized an example of the climate park in the southwestern part of Aalborg explaining how they, as a council, do technical water management tasks, create more nature for citizens as well as the coming generations and creating solutions for rainwater management, thereby increasing biodiversity in Aalborg. This proves to be an example of SDG 15, Life on Land, as well as Goal 13, Climate Action, among others. He also shared his personal experience of how his children collect waste, such as plastic, and stated that he is proud of it.
It's saddening that an event filled with conversations about disasters, threats to endangered species and activities focussing on SDGs about climate change has to remind us that we are in a pathetic situation. On the bright side, Katarzyna Gajewska, president of INGA and also a student of Environmental Management and Sustainable Sciences said, "being open and honest can influence people to work towards a sustainable society". Volunteers from the organization helped distribute soapberries (for washing clothes without chemicals), thereby showing their way of supporting a sustainable society.
Members from INGA (left) and members from the Vegan Association (right) posing for our photographers (Photos by: Michaela Higgins Sørensen)
The Vegan Association in Aalborg created a huge impact on the day by distributing vegan cakes, cookies and a word about veganism. Lars from the group said he is a vegan and that "it is a big step as an individual for biodiversity", thereby influencing people and living as an example. He mentioned high school students across many places, doing strikes for climate change, gives a loud message to the politicians who are currently not addressing the problem adequately.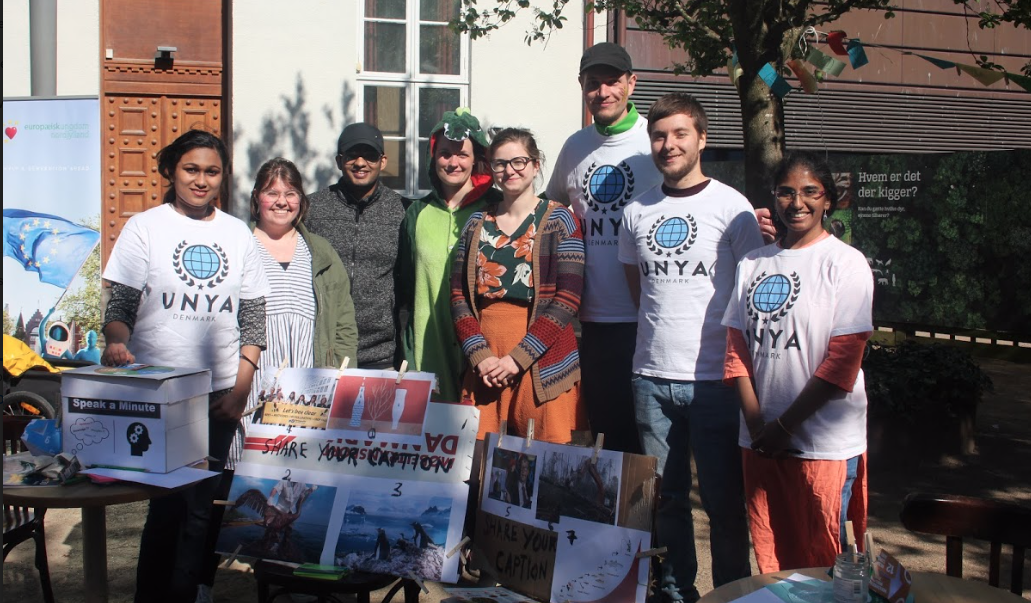 Pierre, a passionate green activist and the leader of UNYA's Climate Change working group said "it is important to spread awareness among people who completely get disconnected to the necessary fact of Earth's well functioning in society through events like Earth Day." He added, "in terms of a growing population and to meet their needs, it is important to use Earth's surface to farm fruits and plants which are also rich in proteins, thereby avoiding meat consumption." He said he, as an individual, tries to be careful in his choices and be wise when it comes to spending money when working towards a sustainable future on a daily basis.
"Being open and honest can influence people to work towards a sustainable society." – Katarzyna Gajewska
He briefed that, events like these fall in line with the United Nations Environmental Program (UNEP), which started in 1972. Its mission is to coordinate the organization's environmental activities and assists developing countries in implementing sound practices and policies.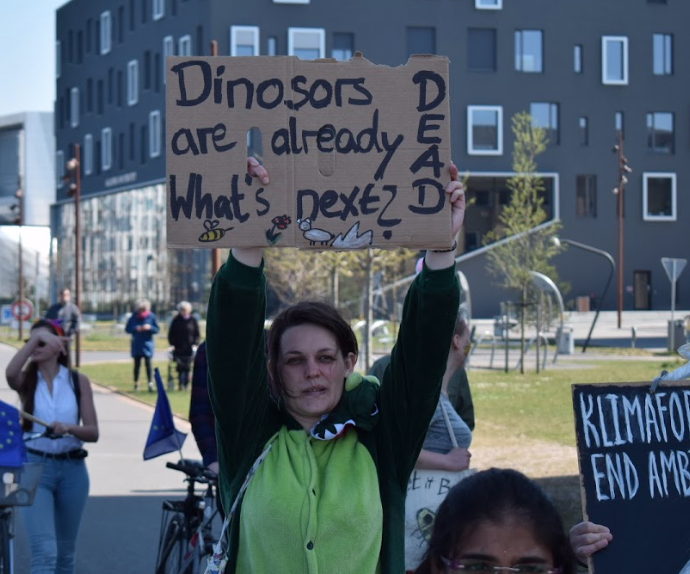 "In terms of a growing population and to meet their needs, it is important to use Earth's surface to farm fruits and plants which are also rich in proteins, thereby avoiding meat consumption." – Pierre Vogler Finck
Another conservationist Narcis, president of the European Union North Denmark, said "it has become a tradition to celebrate Earth Day since 2015." This year, they as an organization, decided to spread awareness through their  "Let's wash green" campaign and believe it has reached out to the public. The motivation behind the campaign is to live in a zero-emission society. The campaign is all about washing clothes green, i.e without using detergents for which they have distributed soap nuts. He also stated that he gave up on cows, promised not to fly for the next couple of years and maintains a green garden at home, thereby contributing to a sustainable society.
So, I have got enough inspiration to promote and protect my Earth. Did you?
Article by: Durga Kameswary
Article Edited by: Michaela Higgins Sørensen
Cover Photo by: Pierre Vogler Finck