All year round, not just on International Women's day, women inspire us. Their every day contributions lead us forward, towards a more equal world in which our voices are heard and our opinions matter. Although women's influence is rising and the number of women as heads of states or governments has grown slightly over the past years, we are still nowhere near to reaching gender equality. 
Today, gender disparities are very much existing in the political structures of the governments worldwide. According to the statistics of UN Women, only 22 countries have women in executive government positions and only 21% of government ministers are females (UN Women, 2021). So, why is politics still a male-dominated field and how are female leaders proving the contrary?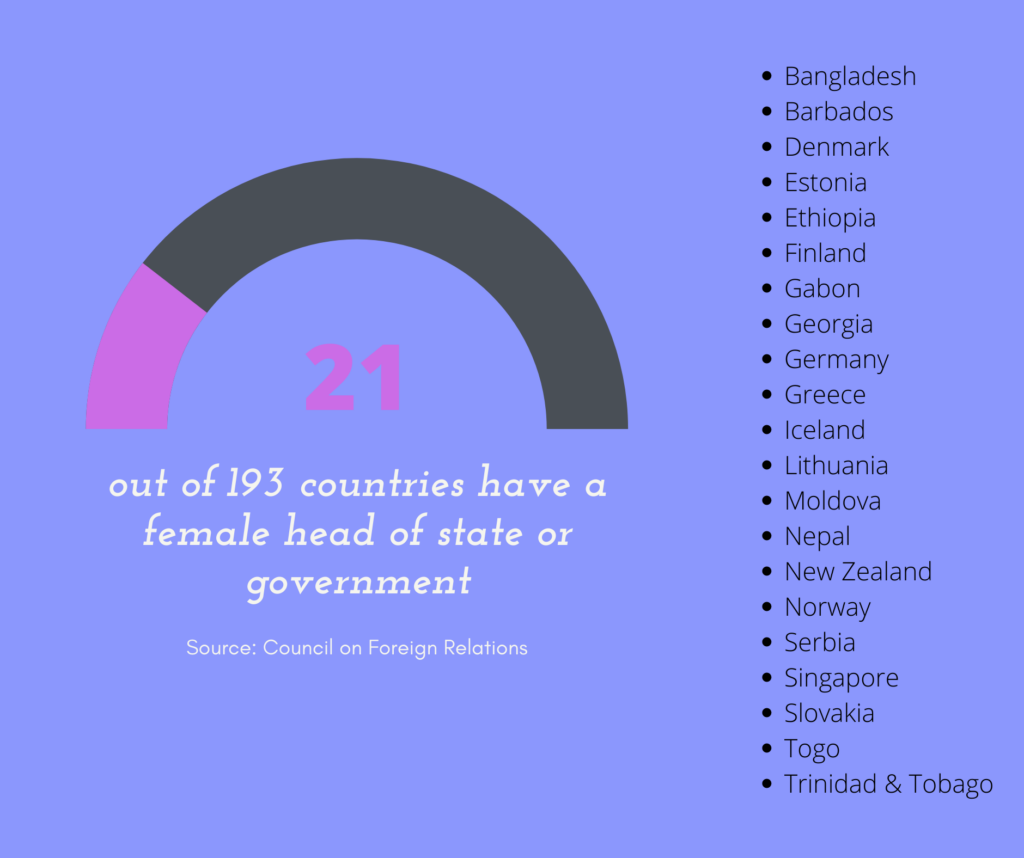 "To fully realize gender equality in our society, we must break the grip of traditional norms, and give every woman the right to choose her role in society, and a chance to pursue her aspirations."

– Tsai Ing-wen, first female president of Taiwan
As we are all still dealing with the numerous difficulties and uncertainty caused by the Covid-19 pandemic, the female leaders worldwide make it clear how decisive leadership can lead to progress in times of a global crisis. We have witnessed that female-led countries, such as New Zealand, Denmark, Taiwan, Finland, Norway and Germany, managed to approach the pandemic decisively by undertaking effective measures, thus, achieving significantly better results in comparison to male-led countries, according to an analysis of 194 countries led by the University of Reading, England (Garikipati & Kambhampati, 2020).
For example, the exceptional leadership and approach to the pandemic of the New Zealand's prime minister, Jacinda Ardern, have resulted in making the country one of the best places to be in a coronavirus era. With her approach, leadership skills and proactive policies, Jacinda has managed to successfully mitigate the virus situation, protect the nation and to properly prevent and respond to the Covid-19 virus (Dyer, 2021). New Zealand's effective strategy has resulted in a small number of Covid-19 cases and very few deaths (Ministry of Health, New Zealand, 2021).
"I never, ever grew up as a young woman believing that my gender would stand in the way of doing anything I wanted."

– Jacinda Ardern, prime minister of New Zealand
Finland's implementation of their effective and widely accepted track-and-trace system has helped the country in preventing the spread of the virus and avoiding future lockdowns. This application provides contact tracing and alerts the user of potential exposure to the virus, therefore, allowing people to participate and prevent the spread of the virus. Sanna Marin's leadership and quick response early in the pandemic followed by the introduction of severe restriction measures, have contributed to lower infection rates and deaths in comparison to the other countries in Europe (Höppner, 2020).
Similarly to New Zealand's and Finland's success against Covid-19, the rest of the countries led by women, which are mentioned above, are shining examples of effective leadership in the Covid-19 pandemic. These women are demonstrating that leadership does not have gender and with their skills, knowledge and abilities, they are contributing to a world that is closer to achieving gender equality. 
"I have never thought about my age or gender, I think of the reasons I got into politics and those things for which we have won the trust of the electorate."

– Sanna Marin, prime minister of Finland
Women worldwide are breaking the gender stereotypes every day. Their contributions to the social, economic and political spheres are undeniable and impact our lives in meaningful ways. Let us celebrate, value and respect women every step of their way towards gender equality, or as the great Maya Angelou once said: "How important it is for us to recognize and celebrate our heroes and she-roes!".
Written by: Dragica Dimova
---
Notes 
Dyer, P. (2021), Policy and institutional responses to COVID-19: New Zealand. Retrieved from:
Garikipati, S. & Kambhampati, U. (2020), Leading the Fight Against the Pandemic: Does Gender 'Really' Matter?. University of Liverpool, University of Reading.
Höppner, S. (2020), Why is Finland coping so well with the Coronavirus crisis?. Retrieved from: https://www.dw.com/en/coronavirus-finland-sweden-role-model/a-55664117
Ministry of health, New Zealand (2021), COVID-19: Current cases. Retrieved from: https://www.health.govt.nz/our-work/diseases-and-conditions/covid-19-novel-coronavirus/covid-19-data-and-statistics/covid-19-current-cases
UN Women (2021), Facts and figures: Women's leadership and political participation.
Retrieved from: https://www.unwomen.org/en/what-we-do/leadership-and-political-participation/facts-and-figures#_edn1